You'll love what's new and different at the family-friendly Frisco Festival in Downtown Rogers. This year, The Good Life Experience at Frisco Festival is an exciting new twist centered around food, arts, music and outdoors!
Join us as we celebrate our quality of life and culture of food, arts, music and outdoors at The Good Life Experience at Frisco Festival, a mix of activities held during Frisco Festival designed for families, young professionals, foodies, art and outdoor enthusiasts, adventurers and explorers. The whole community is invited to come together for this fun and festive way to experience The Good Life that we all enjoy.
New "Taste of Rogers" Kicks Off The Good Life Experience at Frisco Festival Thursday Night | August 22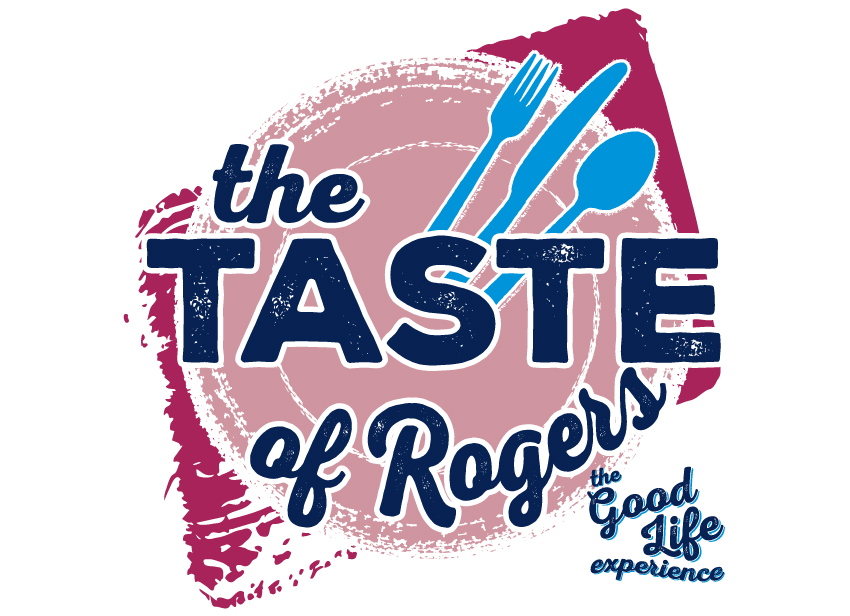 The Good Life Experience at Frisco Festival will officially kick-off on Thursday, August 22 with a Taste of Rogers Cocktail Party at the DTR Market (downtown farmers market).
The party, which runs from 6:00 p.m. to 8:00 p.m. will feature heavy hors d'oeuvres prepared by local chefs, dessert, beer and wine. Jake McBride from iHeartMedia/KKIX (Kix 104) will emcee the event. Music will be provided by singer/songwriter Sierra Carson. Sierra is Arkansas-based and writes/performs folk and pop melodies that inspire. At only 17, her first EP is in the works with a target release of Fall 2019. Sierra longs to connect with her audience in a vulnerable and real way, through storytelling and experimenting with lyrics and melody.
Seating for the event will be limited to the first 100 reservations and are $25 a ticket.
Below is a sampling of the menu items that will be available ***menu is subject to change***
IDK? CAFE - Asian Fusion Chicken Wings
Fresh Harvest Tasting Room - Brussels Salad with White Balsamic
Yeyo's El Alma de Mexico - Street Tacos
Boar's Nest - BBQ Parfaits
Back Yard Burgers - Burgers and Blackened Chicken Sandwiches
Carrabba's Italian Grill - Spicy Sicilian Wings, Meatballs, Ricotta and Bruschetta
Comida Artesenal Tapas Bar - Seared Beef with Piquillo Pepper and Shallet Jam with Championes Rellenos
Big Sexy Food - Caramelized Pork Belly Treat
Crabbys Seafood Bar & Grill - Seafood Ceviche Phyllo Cups and Crab Spinach Dip
Golden Corral Buffet & Grill - Bruschetta with Crostinis, Maple Caramel Bacon Crack Bites, Mini Cubano Sandwich, Sirloin Steak and Assorted Mini Desserts
ONYX Coffee Lab - Hot and Iced Coffee
Rick's Bakery - Assorted Cookies
Tacos 4 Life - Chips and Queso
Las Palmas - Taquitos and Nachos
Levi's Gastrolounge & Low Bar - Buffalo Chicken Dip
Diageo - Margaritas
Neighbor's Mill - Assorted Danishes and Breads
Diamond Bear Brewing - Beer
Friday and Saturday Highlights | August 23-24
The five main components of The Good Life Experience at Frisco Festival include the Taste of Rogers Cocktail Party, 5K Fun Run & Community Walk at Lake Atalanta, Marketplace Presented by Central States Manufacturing, Bass Pro Shops Outdoor Adventure EXPO, and Experience Workshops.
Northwest Arkansas Emerging Leaders (NWAEL) will host a 5K Fun Run at Lake Atalanta for just $5 with all proceeds benefiting NWAEL programming. Following the run, a Lake Atalanta Community Walk will bring families and friends together to celebrate Rogers' downtown park with a casual walk around the lake to enjoy its natural beauty and gorgeous views. Ozark Regional Transit will provide transportation via shuttle bus to and from Lake Atalanta and Downtown Rogers during the festivities. Participants are also encouraged to bring a non-perishable canned food item that will be donated to local food pantries.
A unique "pop-up" marketplace will be located at the DTR Market area of Downtown Rogers and will feature local businesses who offer products and services that help make your life better. The Good Life Experience Marketplace Presented by Central States Manufacturing, Inc.will be open from 8:00 a.m. to 1:00 p.m. on Saturday in conjunction with the DTR Market and is a great opportunity to get your business or organization in front of an average of 500 people who regularly attend the DTR Market. While there, visit the DTR Market offering fresh fruits, vegetables, meats and other local goods. Registration is now open for exhibit booth space for vendors to display at The Good Life Experience Marketplace. Purchase space for only $125 ($75 for Nonprofits). Click on the register button to purchase space. For more information, contact Jeff O'Neill at jeff@rogerslowell.com.
New this year, Bass Pro Shops Outdoor World will present the Outdoor Adventure EXPO on Saturday at Lake Atalanta from 9:00 a.m. - 2:00 p.m. The community will enjoy learning about and trying out the latest products for fishing, camping and cooking. Joint Forces K9 Group will also be on-hand taking part in the Outdoor Adventure EXPO discussing K9 obedience, training measures and hosting demonstrations with their dogs. For the waterfowl hunters, a special demonstration will take place about introducing your dog to water and best retrieving practices. It's FREE to attend. Vendors are able to purchase exhibit booth space to demonstrate outdoor activities that the whole family will enjoy.
Join us for free and low-cost Experience Workshops on food, art, music and outdoors as they "pop-up" at downtown merchants and around beautiful Lake Atalanta. Choose from a variety of experiential learning topics like beer-making, artmaking, cooking, yoga, wine-tasting and more. Current workshops include:
Floral Arrangement Workshop presented by Eden's Flower Truck
Family Fun Yoga at Spark Yoga & Coaching
Physical Therapy: Can it be a Cure for What Ails You? presented by Northwest Health
Walking Beer Tour at Hawk Moth Brewing, Studio 300 (Diamond Bear Brewing), Ozark Beer Company and Brick Street Brews
Wine Pairing Class presented by Carrabba's Italian Grill
Salsa de Molcajete Demonstration presented by Yeyo's Mezcaleria & Taqueria
Coffee Talk + Tasting presented by Onyx Coffee Lab
Ozark Cornbread with Moonshine Tea presented by Chef Erin Rowe at Honeycomb Kitchen Shop
Downtown Rogers businesses are also joining the Chamber in offering free and low-cost Experience Workshops throughout the community in conjunction with those offered by the Chamber. Create a virtual t-shirt design, experience olive oil and balsamic vinegar tastings, create an illuminated firefly door hanger, compete in alley cat bike races, and more. View a full list of experiences here!
The Frisco Festival has been delighting people from all over for more than three decades (35th year!) and is named in honor of Rogers' rich railroad heritage. From morning to night, you'll find plenty to do – live music, street entertainment, kids' zone, delicious food, art displays, and outdoor fun.
These events are hosted by Downtown Rogers Inc. (Frisco Festival) and the Rogers-Lowell Area Chamber of Commerce (The Good Life Experience at Frisco Festival) to honor our heritage, bring alive the best of Rogers and celebrate The Good Life Experience that we all enjoy.
A variety of sponsorship packages are still available for both Frisco Festival and The Good Life Experience at Frisco Festival. If you have questions about sponsorship packages and/or would like to purchase a sponsorship, please contact Member Services at (479) 636-1240 or email memberservices@rogerslowell.com.