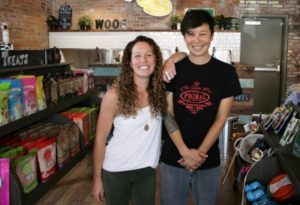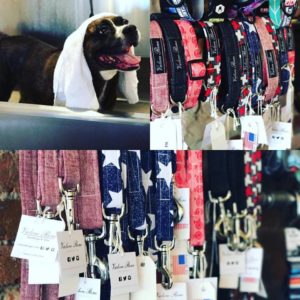 The Arkansas Small Business and Technology Development Center (ASBTDC) assisted one of Rogers' newest businesses, Woof and Wander, by offering guidance on its business plan, providing market research, and giving them knowledge on how to start a business in Northwest Arkansas. ASBTDC also helped them secure a location and evaluated their logo design while discussing an assortment of business strategy and marketing ideas.
Woof and Wander is a new business in Downtown Rogers. It describes itself as a canine pantry and outfitter inspiring a more adventurous life for animals and their humans by curating only the best product options for a healthier and more active existence. Some of the services and products offered include a self-service dog wash, healthy pet food, natural pet treats, holistic supplements, adventure gear, interactive toys, natural hygiene products, and handmade and up-cycled pet accessories. "We are your retail solution for all things wild when it comes to nourishing your pet's mind, body and soul," Owners Naomi Hashimoto and Lindze Dolan said. They believe in providing nutrition, exploration and rejuvenation to all dogs. "Working with ASBTDC was an invaluable experience," Hashimoto said. "It wasn't just the business sense that they helped us with, they also gave us confidence we needed to take those small steps that became momentum. When starting a small business, it's momentum that drives you daily." Woof and Wander is located at 107 W. Elm St. Contact them by phone at (479) 877-1809 or visit
woofandwander.com
.
What is ASBTDC?
ASBTDC is a university-based economic development program that assists entrepreneurs, both new and seasoned. With seven offices around the state, ASBTDC works with all types of for-profit businesses, from home-based to high-tech. Unique among Arkansas economic development organizations, ASBTDC serves businesses from any county in Arkansas, in any industry sector, at any stage of business development. For more information, call (479) 575-5148 or visit
sbtdc.uark.edu
.