By Guest Blogger Angela Grayson
Let's face it. Women are powerhouses. We bring home the bacon and fry it up in the pan (
as my Match.com profile used to say
). Women are doers, makers, planners, hustlers, ballers, bosses, and the list goes on and on. In fact, women business owners have almost singled-handedly driven growth in the US economy since the 2009 recession (have we finally admitted there was really a recession back in 2009?). What I mean to say is business is booming! More women than ever before are starting businesses and taking charge of the here and now. But what about tomorrow? How are women positioned for the demands of sustainable growth? Only by locking down competitive advantage, minimizing risk, and seizing opportunity can women-owned businesses become adequately poised for tomorrow. As the saying goes, 'what got you here, won't take you there.'
Women entrepreneurship drives our economy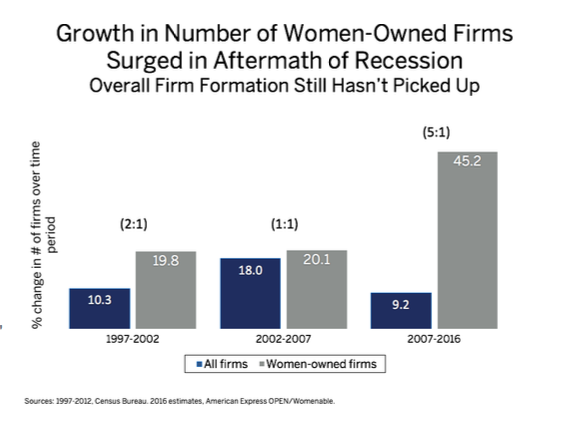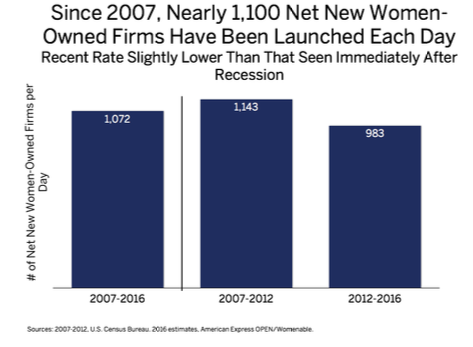 What is interesting to note in this growth is actually
which
women are taking charge of business ownership. Minority-owned women, such as Latinas, African-American, Asian-American, and Native-Americans are the leading the surge...you go girl!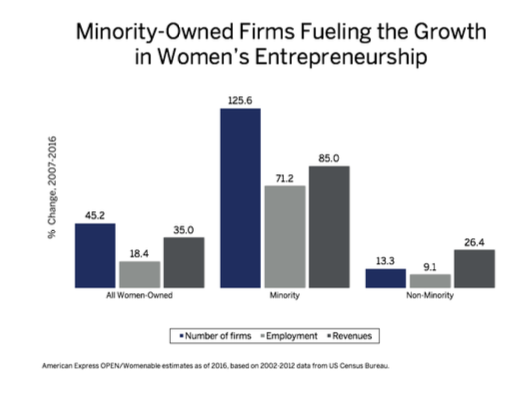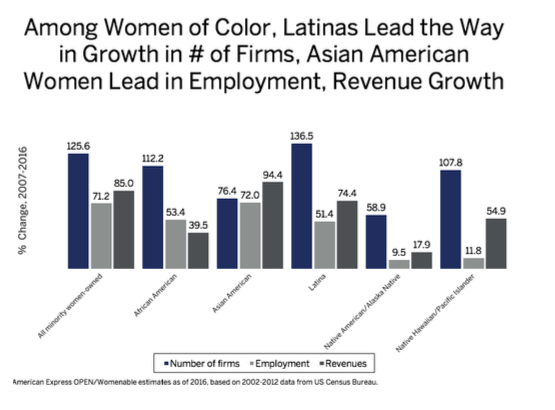 Source: THE 2016 STATE OF WOMEN-OWNED BUSINESSES REPORT
Sustain growth through innovation
Surge is great, but the next step in a business's evolution is sustainability. Sustainability is what all businesses hope for. And sustainability is usually synonymous with ingenuity and innovation. Women owned business owners should continue to find innovative ways of working, branding, designing, and ultimately product development that can establish a competitive advantage far into the future. Think about positioning products and services rather than simply selling, and in doing so, leverage intellectual property protections such as trademarking, patenting, and copyright registrations to cement the advantage. Remember, what got you here likely won't take you there, so always keep the end goal in mind. In a
previous post
, I discussed ways businesses can thrive by protecting and maximizing a company's intellectual property.
Harvest ingenuity and innovation
To help take your business to the next level, consider the following:
Get business training. Grinding it out at the beginning is what all entrepreneurs must do, in the end though, knowledge is power, so get all you can when it comes to how to run your business.
Make a multi-year business plan, and stick to it. A goal without a plan is simply a wish. (Download business plan template here)
Consult a business advisor (like for example Allan Taylor & Co.) about what the end-goal should be for your business. Do you want to sell, pass the business on to your children, go public, etc.?
Protect the competitive advantage, whether that advantage lies in branding, designs, inventions, or data- do all you can to protect it. A business's value can decline pretty quickly if a copycat can come along and siphon off sales, customers, or users.
And lastly, grow your network. I was once told- no net worth without a network. Believe me, it's true.
A version of this article was published in the online magazine
Startup Southerner
. See the original article on
PrecipiceIP.com
.
About the author:
Angela Grayson, CLP, CIPP/US is the Principal Member of Precipice IP PLLC. Angela is a technology attorney and registered patent attorney helping software, chemical solutions, medical devices, and life science companies protect brands, products, designs, and data. The presentation of these materials does not establish any form of attorney-client relationship with the reader. While every attempt is made to ensure these materials are accurate, Precipice IP disclaims any liability for any errors or omissions which may be contained therein. [button link="https://a.flexbooker.com/widget/f6f2cb87-67c7-4d31-b5cd-c94dd798d8cf" newwindow="yes"] Schedule a Strategy Consult[/button] For more information about Precipice IP, contact them by phone at (479) 259-2966, visit
PrecipiceIP.com
, follow them on Facebook at
facebook.com/precipip
, or stop by in person at 1202 NE McClain Road, Ste. 139 in Bentonville.