July's Small Business Corner feature focuses on new programming in progress. In May, the Rogers-Lowell Area Chamber of Commerce sent out a survey for feedback on the possible creation of a new professional women's business organization. The survey was created and overseen by the Small Business Council. Chamber members and non-members responded with overwhelming support for this new program being implemented in 2018. Here are some of the survey highlights: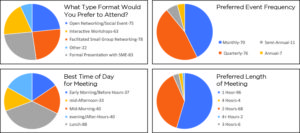 What's Next? You Can Help! | July 13
The Small Business Council is now forming a committee to implement the new program based upon these survey results. The first committee meeting will be at 9:30 a.m. on July 13 at the Rogers-Lowell Area Chamber of Commerce. If you are interested in serving on this committee, please contact Steve Cox, Senior Vice President of Economic Development, at
steve@rogerslowell.com.