What's Cookin' at Cook's?
By Marni Rogers
Member Relations Manager
Rogers-Lowell Area Chamber of Commerce
Something new, organic, and healthy along with friendly staff is what's always cookin' at Cook's Natural Foods in Downtown Rogers.
Cook's is one of my favorite organic and whole foods store and have everything you would expect to find at a health food store. They have everything from organic locally-grown produce, organic baby foods, natural dog and cat foods, herbs and spices you can buy by the ounce, organic beauty products and essential oils, natural juices and natural energy drinks, to an endless list of dairy-free and meatless choices (you have to try the vegan jerky...you'll want to eat it like candy). They have a frozen section with many organically-grown food choices, gluten-free foods, and the increasingly popular
Gardein
and
Beyond Meats
, and gluten-free breads and pizzas. They sell Angus Beef (cows are grass fed and their last 100 days are grain finished and the feed is non GMO with no growth hormones or antibiotics).
Check out the bulk section where you will find organic beans, rice, flours, coffee, teas, and much more. Usually, I empty the bin of what's ever left of the nutritional yeast because I love gobs of it on my air popped popcorn! Then there's the lunch menu which varies day-to-day but always a tasty variety.
Recently, I could feel a cold coming on and hurried to Cook's for advice on alternatives to boost my immune system but was looking for something stronger than echinacea and was shown Astragalus (from the Astragalus Root) and decided to try the herb and it gave my immune system the boost it needed and I never got sick.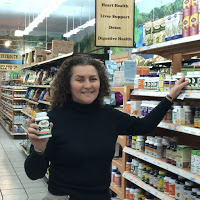 Susana Cook, Owner of Cook's Natural Foods in Rogers
Cook's sees me at least once a week and I always find something new. If they don't have what I need, they will order it for me to pick up at the store.
Check out their
website
! They have a library of information on top health conditions and recommended products sold at the store to help treat conditions. The staff is very knowledgeable and always eager to empower me with valuable health information, so I can take better care of myself and be less dependent on the doctor.
What keeps me coming back is the caring staff, variety of healthy choices, and lower prices. Also, I'm supporting a woman-owned business who has been providing healthy alternatives and smart food choices in our community for 21 years!
If you are in the downtown area looking to shop healthy or grab a quick healthy lunch, remember Cook's Natural Foods. You can follow them on
facebook here
.