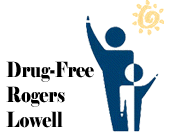 Our friends at Drug Free Rogers-Lowell are bringing in an amazing speaker to northwest Arkansas to talk to parents about drug prevention and health education when it comes to their children.

Guest speaker, Isabel Burk, is the Director of The Health Network. Burk is a nationally known, award-winning expert on drug prevention, safety policies, and health education issues. Her professional achievements have been honored by the U.S. Department of Health and Human Services, Northeast Center for Safe and Drug-Free Schools , and the New York State Department of Health. Isabel has written two books, more than 100 articles and has appeared on 20/20 , CBS This Morning , The View , Phil Donahue , Fox News, and others.
You will have two opportunities to attend the program "Challenges of the Millennial Generation: What Parents Need to Know". The first training will be held Tuesday, April 27th from 6-7:30 at the Shewmaker Center on the NWACC campus and the second training will be held Wednesday, April 28th from 6-7:30 at Landmark Baptist Church in Siloam Springs.